Product Description
Grey cast iron also known as flake graphite cast iron, is a type of casting iron in which most of the carbon is present as flake graphite .The properties of grey cast iron depends on the distribution, sizes and amount of graphite flakes, and the matrix structure. These factories are in turn, influenced mainly by the manufacturing conditions, chemical composition, solidification time and rate of cooling in he mould. Grey cast iron exhibit low to moderate strength, low modulus of elasticity, low notch sensitivity, high thermal conductivity, moderate resistance of thermal stock , and outstanding capability.
A&M has many years of experiences to produce grey iron casting or gray cast iron. All of these grey casting are used in the automobile industry: gear box body, pipeline system and so on. The normal material of grey cast iron is the following: GG15, GG20, GG25.
| | |
| --- | --- |
| material | GG15 GG20 GG25 |
| type | sand casting |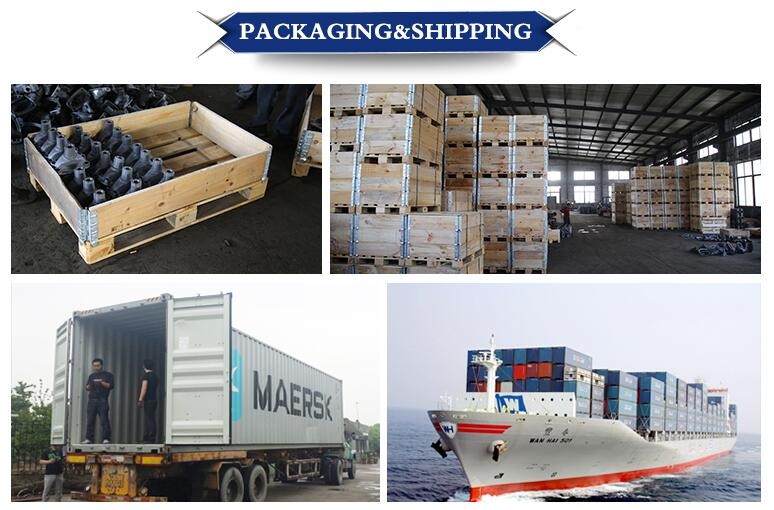 FAQ
What if I have a "problem part"? Can A$M meet my needs?
Yes, we can provide solutions for many challenging, "problem" parts. In fact, investment castings is often the only answer to casting difficult parts economically. Let us know what your challenge is, and we'll help you find the right solution.
What are your precision casting tolerances?
±.005 per linear inch. Angular tolerance is ±1/2 degree. Typical finish is 120 RMS.
Is there an advantage to using investment casting for replacement parts?
Yes, cast replacement parts made from higher tensile alloys cost less and last longer, reducing your downtime for lost parts.
Can A&M produce intricate part shapes?
Yes. Our precision casting process allows us to manufacture intricate shapes that would be impractical or impossible to produce by conventional means. We produce complex parts with fine detail in one piece to 120 rms surface finishes.
Can you handle my unusual alloy requirements?
A&M can cast all stainless steels, and a variety of other materials.
300 and 400 series
17-4 Ph
15-5 Ph
Tool steels
High carbon and low carbon steels
Super alloys
Cobalt
Nickel base alloys
Bronze
Brass
We can also use special alloys made to your specifications. In addition, certified chemical and physical analysis are furnished when necessary, as well as NDT.
Do you have the capabilities for large and/or small production?
We have the flexibility to handle both large and small production runs. A&M prides itself in meeting your specific requirements and deadlines.
What are the benefits of Investment Casting?
Investment Casting provides you with incredible design flexibility and reduced costs.
What are A&M's part size capabilities?
A&M specializes in both large and small castings - from intricate, miniature parts that are 1/10 of an ounce or less to large investment castings of up to 50 pounds.
Our Services
1.Your inquiry related to our products or prices will be replied in 12 hours.




2.Individual formula according to customers' special drawing requests




3.Manufacturer with large capacity,ensures the fast production cycle after confirming the order.




4.Protection of sales area and private information for all of our customers.
Remark
(1) Any RFQ ,Please feel free to send your drawings(CAD.PDF)for quotation .
(2) All parts are not in stock ,customized only!